TRAUMA INFORMED DESIGN
Shopworks has been researching the intersection of the built environment and mental health in conjunction with all the buildings we design. In 2019 we partnered with The University of Denver Center for Housing and Homelessness Research and Group 14 Engineering to research Supportive Housing buildings in Colorado and see what design features helped individuals heal and thrive.
When we started designing The Delores Project shelter and Delores Apartments at Arroyo Village, we attended a training on the importance of trauma-informed care in engaging shelter guests. We learned that most adults have experienced childhood trauma, that many residents of the buildings we design have experienced substantial trauma throughout their lifetimes, and that trauma can have lifelong physical and mental health consequences and multigenerational effects—changing the brain and how we view and respond to the world around us. We also learned that the negative effects of trauma can be mitigated. For us, this understanding sparked a revelation: We have a responsibility to not just design housing, but housing that promotes healing and well-being.
Our aim is to create greater awareness of and interest in the potential for our work—as architects, designers, engineers, developers, nonprofits, and others creating housing – to not just shelter people, but to also promote healing, dignity, and joy through a built environment in which all people can thrive. We invite you to join us in this work.
HOW TRAUMA IMPACTS MEMORY
Trauma is a major indicator of health outcomes, which directly relate to individuals outcomes as it relates to housing and homelessness. There is much research that has been done on Trauma Informed Care, a best practice in organizations ranging from schools to homeless shelters.
Please click on the How Trauma Impacts Four Different Types of Memory infographic thumbnail to enlarge.
Please visit Dr. Nadine Burke Harris' Ted Talk on how trauma impacts brain development and health outcomes.
TRAUMA INFORMED CARE
Because of this research, Trauma Informed Care is an evidence-based practice that is utilized in providing services and case management in homeless shelters, supportive housing, schools, and other environments. The Substance Abuse and Mental Health Services Administration offers trainings and research in best practice for Trauma Informed Care. Their principles of a trauma-informed approach are:
Safety
Trustworthiness and Transparency
Peer Support
Collaboration and Mutuality
Empowerment, Voice and Choice
Cultural, Historical and Gender Issues.
SAMHSA's Concept of Trauma and Guidance for a Trauma-Informed Approach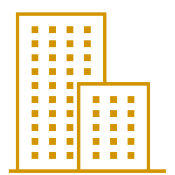 3 SITE TOURS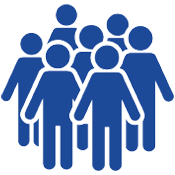 11 FOCUS GROUPS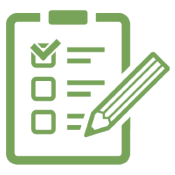 59 SURVEYS
Because of the deep impacts of trauma in the individuals who live in the buildings we are a part of designing and researching, Shopworks Architecture, Group 14 Engineering, and The Center for Housing and Homelessness Research at the University of Denver came together to perform a research study on how the built environment can partner with services providers and help individuals heal from Trauma.
We came together and visit three different supportive housing apartment buildings in Colorado, we held 11 focus groups with residents and staff in those buildings, and also received 59 paper surveys.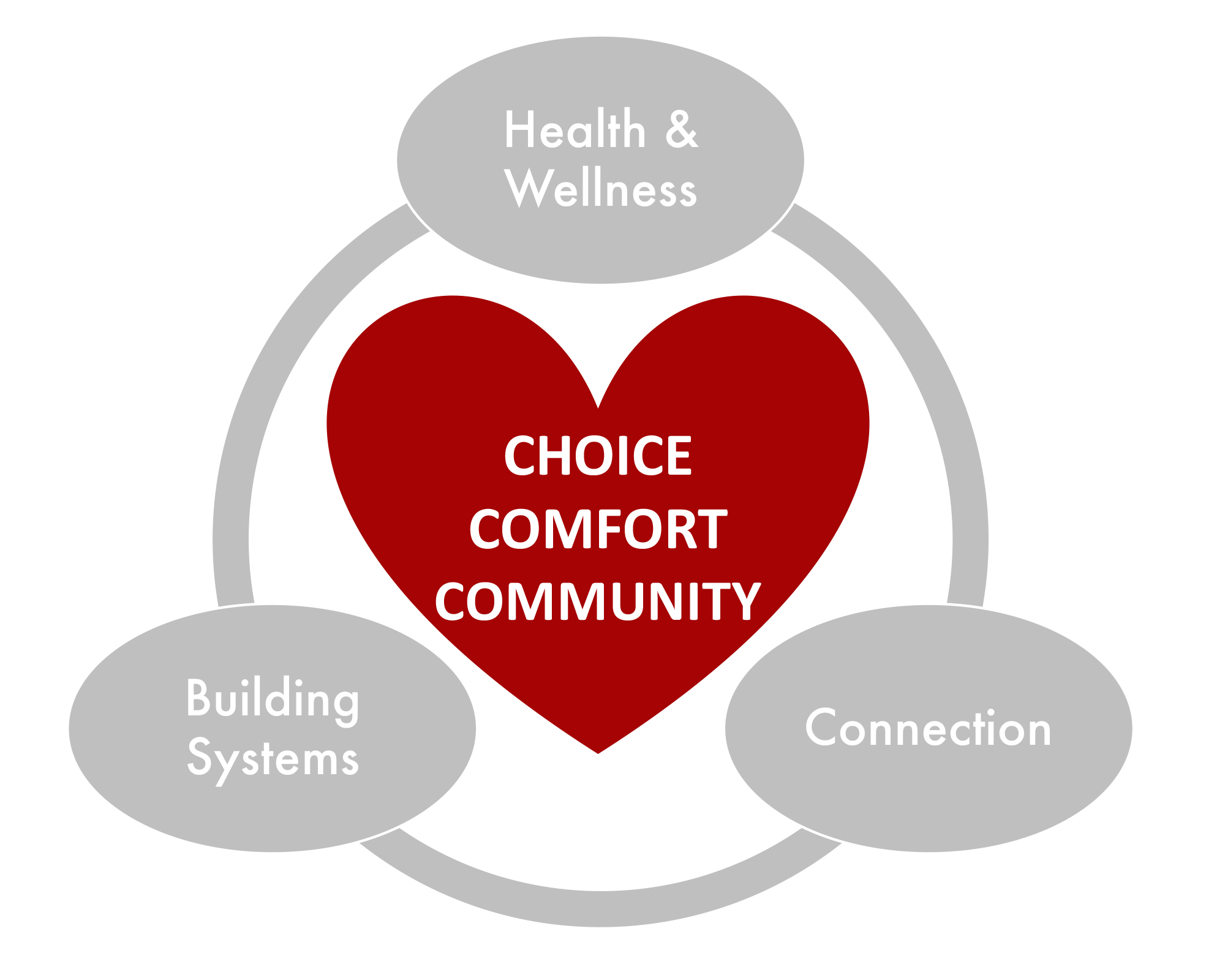 CHOICE, COMFORT, COMMUNITY
From this research, we explored the answers from residents and staff, and summarized what we heard into three main ideas. What helped people heal from trauma were the "Three C's of Designing for Health and Healing" that live within all the design decisions made on a housing project.
Choice – Emphasizes individual access, agency, and ownership; describes elements of personalization (e.g., color selection of furniture arrangement) and level of resident engagement with the space (e.g., choosing between relaxing in a community space or in one's own apartments).
Comfort – Includes aspects such as the quality and variety of materials; sensory experiences of light, sound, and smell; and elements such as nature and artwork that bring calm or spark joy.
Community – Responds to the ways that residents may engage – with staff, other residents, and guests – through placement and design of programmatic spaces, office spaces, and public gathering spaces that facilitate relationship-building.
CORE VALUES
Alongside the 3 C's of Designing for Health and Healing, there are also values that need to be shared by the housing team to ensure that the building is not going to just help people have a place to live, but allow all people to thrive. These values come from research by Dr. Jill Pable, Professor of Interior Architecture and Design, Florida State University who has significant evidence-based research on trauma and design through Design Resources for Homelessness. Combining her best practices, with our values, created these values that must be front and center when designing for healing from trauma.
DIGNITY, HOPE AND SELF-ESTEEM
EMPOWERMENT AND PERSONAL CONTROL
SAFETY, SECURITY AND PRIVACY
PEACE OF MIND
COMMUNITY AND CONNECTION
JOY, BEAUTY AND MEANING
Examples of these can be found below.
DIGNITY, HOPE AND SELF-ESTEEM
If we properly design for "Dignity, Hope, and Self-Esteem" we celebrate each individual's inherent worth, communicating positivity, emphasizing strengths, and maximizing potential.
This is seen in the design below which is housing through Providence Network in Denver, CO for youth experiencing homelessness. We renovated an old mansion to welcome these youth home and offered them dignified spaces meant to communicate their worth.
EMPOWERMENT AND PERSONAL CONTROL
If we design for "Empowerment and Personal Control" we encourage individual agency, welcome self-expression and offer choices for residents.
This is seen in these pictures of Karis House, housing designed for youth experiencing homelessness. This apartment offers the youth opportunities to gather in large groups, or private individual spaces. It offers the youth choices for where they want to spend their time outside, and it seeks to communicate empowerment and hope with the high-reaching lobby and amenity space.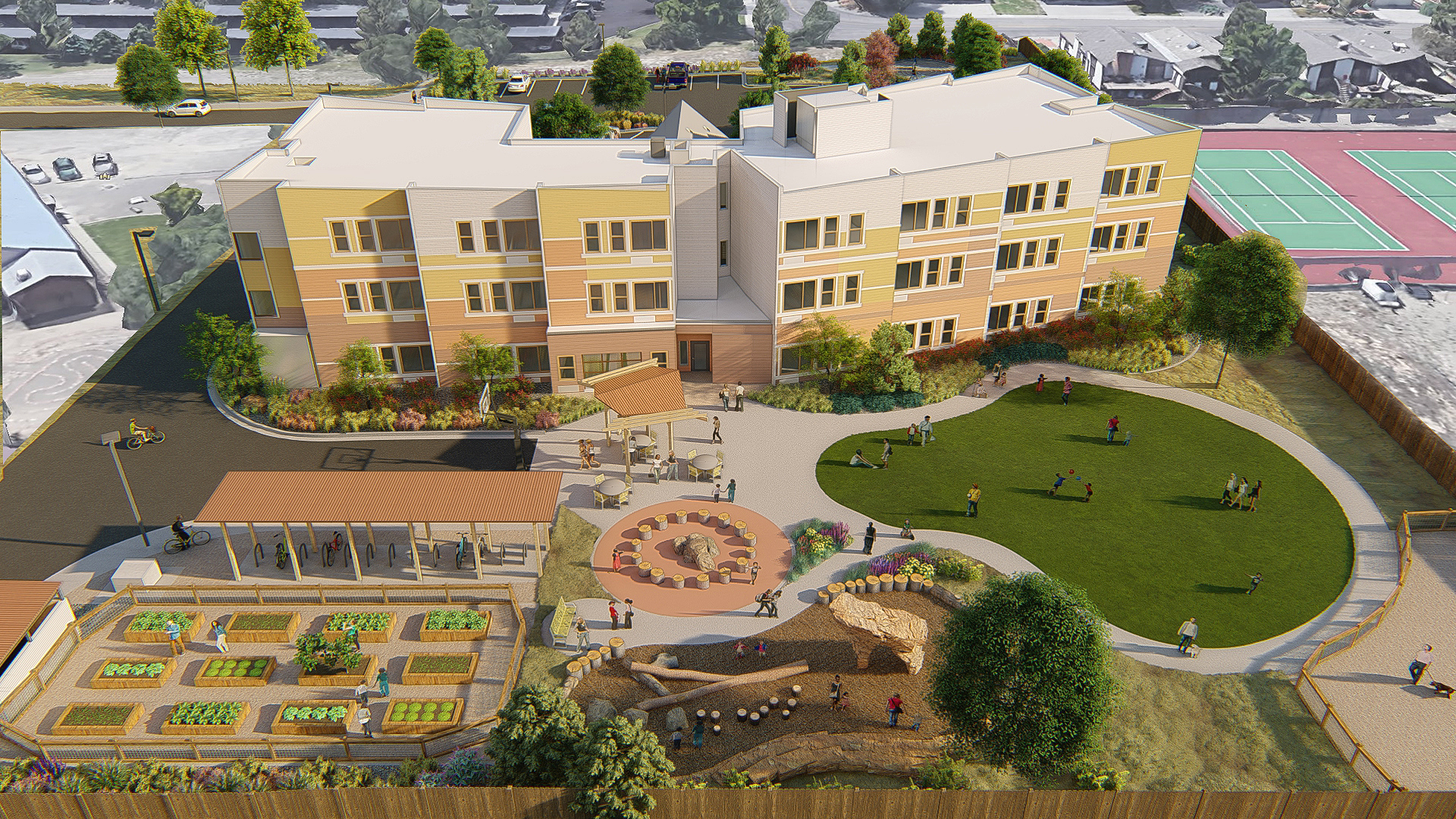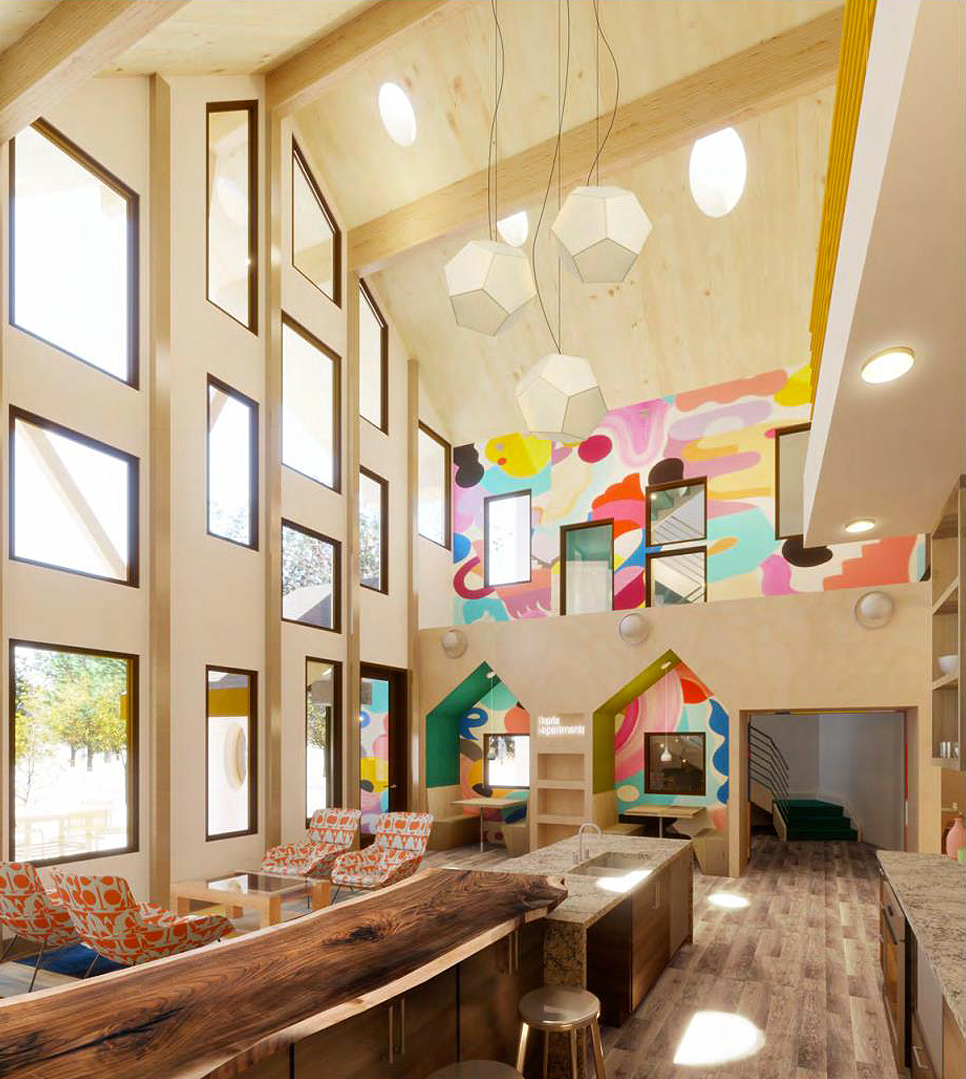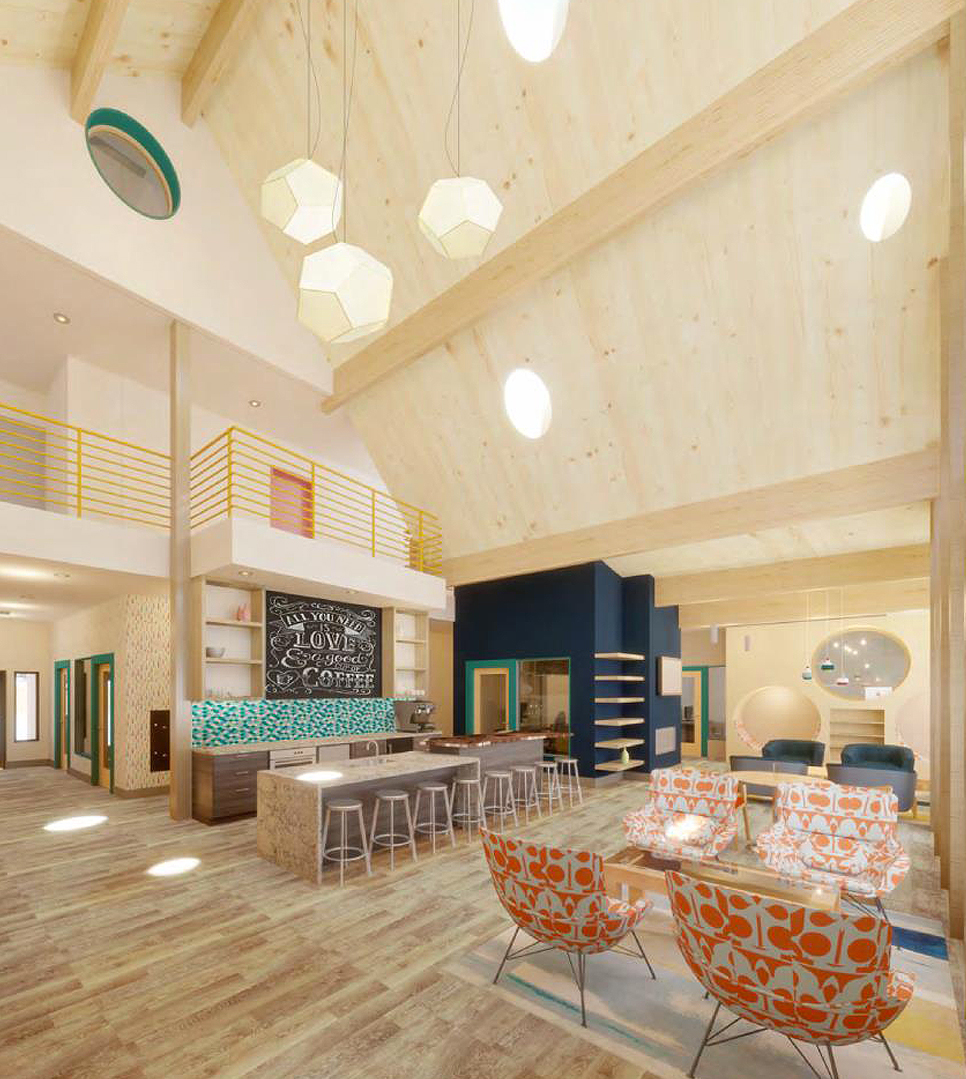 SAFETY, SECURITY AND PRIVACY
If we design for "Safety, Security, and Privacy" we are making sure in design decisions we are asking the individuals who will inhabit the space what feels safe to them – because safety, especially for those who have experienced trauma, is not just about real safety but also about perceived safety.
These pictures are of Laradon School which works with kids with developmental disabilities. The entire school was designed to create space for the kids to "have a moment" while still remaining safe and secure
PEACE OF MIND
If we are designing for "Peace of Mind" we cultivate a comfortable, calm ambience that supports relaxation, self-soothing, stress management and coping through design details such as lighting, sound mitigation, natural elements, and access to nature.
This is seen in designs for The Delores Project shelter in Denver, CO. Seen here is the entrance to the shelter that offers guests a calm, living room environment that has access to an outdoor courtyard, and rocking chairs for them to self-soothe.
COMMUNITY AND CONNECTION
If we are designing for "Community and Connection" we create spaces that encourage camaraderie and collaboration – among residents as well as between residents and staff – and offer the opportunity to belong, helping residents to rebuild relationships built on trust.
This is seen in Brandon Courtyard Apartments by Volunteers of America – Colorado that offers an open lobby that includes staff offices, a communal kitchen, a living room area and access to an enclosed courtyard. This offers individuals spaces to form relationships, while also offering privacy.
JOY, BEAUTY AND MEANING
If we are designing for "Joy, Beauty and Meaning" we honor culture and identity and provide spaces and places that spark and nurture imagination, hope, and aspiration.
This is seen in the beautiful mural by Bimmer T at Terraza del Sol built by Gorman & Company that houses Mi Casa Resource Center in Denver, CO.
We know that this research is just one piece in a larger conversation about how we help individuals heal and thrive based on their experience of the built environment. We would love to stay in touch, hear about your thoughts, lessons learned and ideas that have flourished in this work.
Thank you to our community partners, particularly the residents who shared their time and insights and opened their homes to us: Housing Catalyst and Redtail Ponds; The Delores Project and Arroyo Village; and the St. Francis Center and St. Francis Apartments at Cathedral Square. We also thank our funders—Energy Outreach Colorado, Gary Community Investments and the members of the Housing and Homelessness Funders Collaborative—whose generosity made this research possible. We extend our gratitude to the people and organizations who have contributed to our understanding of trauma-informed design, including Florida State University Professor Jill Pable, founder of Design Resources for Homelessness; Raul Almazar, a senior consultant at the SAMHSA National Center for Trauma-Informed Care; Enterprise Community Partners and Cultural Resilience Program Director Meghan Venable-Thomas; the Corporation for Supportive Housing; the National Equity Fund; Colorado Health Foundation; Housing Now Colorado; and the Mental Health Center of Denver.
The Enterprise 2020 Green Communities Criteria for integrative and healing-centered design provide excellent guidance for implementing for a trauma-informed design process.
The WELL Building Standard (v2) provides detailed guidance on both process and features that support health, mental health, and well-being outcomes.
Design Resources for Homelessness provides a list of architectural ideas to support specific health, mental health, and well-being outcomes, as well as case studies from completed projects.
The Substance Abuse and Mental Health Services Administration National Center for Trauma-Informed Care builds awareness and promotes the implementation of trauma-informed practices.